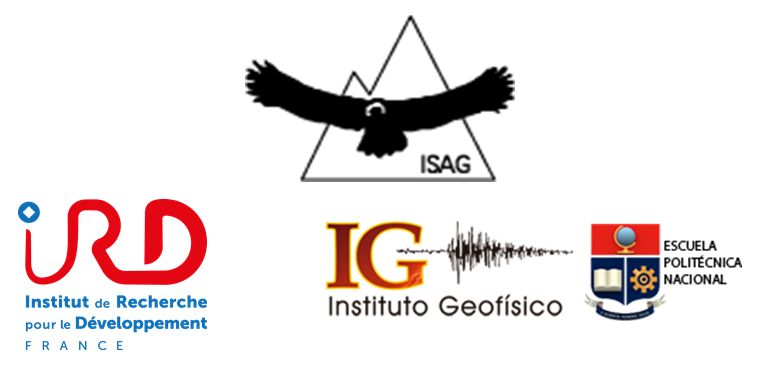 8th International Symposium on
Andean Geodynamics (ISAG)


The +6000 km-long Andean Cordillera represents a unique natural laboratory for studying the geological and geodynamical process associated with the construction and development of a continental mountain range. A decade after the last ISAG in Nice, we have decided to revive this unique symposium on Andean geology and geodynamics but also its related economical and social issues. Because these topics are of major importance for Andean countries, the 8th International Symposium on Andean Geodynamics (ISAG) will be held in Quito, Ecuador on September 24-26th, 2019.
We specially encourage contributions addressing the following topics:
(1) Mechanisms and processes of Andean crustal thickening, uplift and deformation
(2) Interactions between surface, climate and lithospheric processes (deformation, magmatism and sedimentation)
(3) The seismic cycle and active deformation
(4) Geological hazards, with emphasis on seismic, volcanic, and gravitational hazards
(5) Genetic models and case studies of Andean-type ore deposits and geothermal resources
We hope this initiative will captivate your interest and you will come to participate and present your work at 8th ISAG! This meeting will also allow renewing and strengthening the ties among researchers and institutions working in the Andes. Your presence will give relevance to the ISAG!
Abstracts
All abstracts must be written in English. The deadline for submission is May, 15th, 2019. Both oral and poster presentations are planned.
Conference languages
For both, oral and poster sessions, the preferred language is English, although Spanish or French are also accepted. However, there will be no facilities for simultaneous translation.
Registration
In order to attent the 8th ISAG you should register as soon as possible by filling the following form: Registration Form.
Field trips
The organizing committee is planning some field trips in the region. All the information is in this page.
Flyers and Circulars

You can download the flyer here.
Correspondence and enquiries
Please send a message to Esta dirección de correo electrónico está siendo protegida contra los robots de spam. Necesita tener JavaScript habilitado para poder verlo. or contact the local organizers.
Key dates
| | | |
| --- | --- | --- |
| Deadline for abstracts | | May 15th, 2019 |
| Deadline for early bird registration | | June 30th, 2019 |
| Mailing of the third circular | | July, 2019 |
| Symposium in Quito | | September 24th-26th, 2019 |


With the academic and financial support of:


With the financial support of:


8th ISAG
Quito, Ecuador (2019)